Under/Dark
"And once the storm is over, you won't remember how you made it through, how you managed to survive. You won't even be sure whether the storm is really over. But one thing is certain. When you come out of the storm, you won't be the same person who walked in. That's what this storm's all about.

– Haruki Murakami
Under/Dark is a master-full one page role-play game about darker times and the people who live that. It's not a setting, nor a complete game: it's an experience of creation and manipulation where every player, with few words, can take part at the drawing of their own world, full of repression and gloom.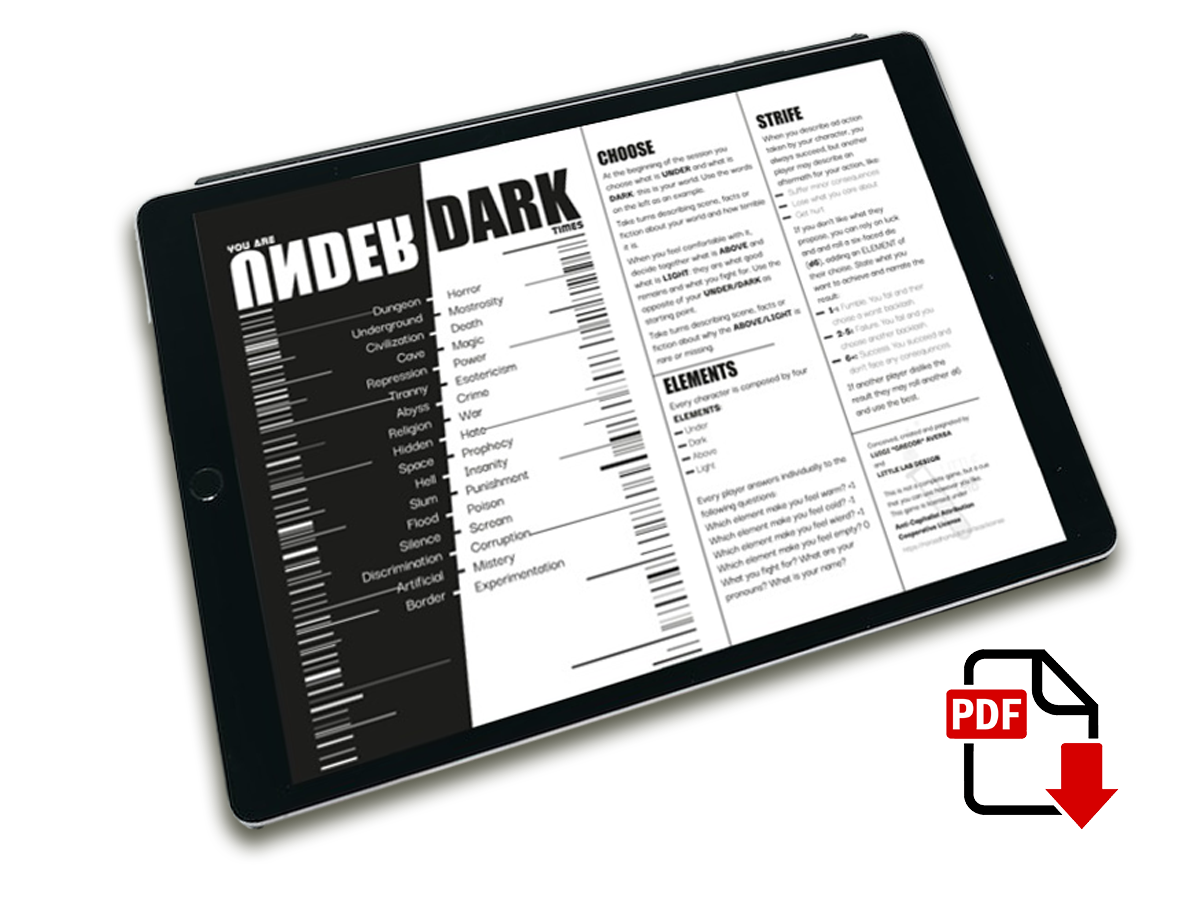 Under/Dark is designed for one-shot games: every time we play, we play a different world with different characters.

Two souls coexist in the game: a world-building phase and a role-play part.
Two simple words to start the creation of a new setting: the foundation of the whole game session.
Four approaches that reflect the sense of the setting on the characters.
A simple rule for conflict resolution, based on one six-faced die.
Remember, the characters can be very powerful, but every action come with a reaction.

The characters are the ship in the storm, the last torch in a pitch-black hole: they are the ones who face the Under and the Dark of their world, bringing the Above and the Light back to shine.
What are those concepts? You decide. Play with opposite and meanings and create both damnation and hope for your protagonists.

Under/Dark is a game for 3-5 players.
There are no character sheets or anything like that, all you need is:
a piece of paper
a pencil
one six-faced die (d6).
Everything you find here it's the wholeness of the game: a single page of rules, in english and italian.
Download
Click download now to get access to the following files:
UnderDark - English version.pdf
122 kB
UnderDark - Italian version.pdf
122 kB